Build Your Library
Step 1: Upload Videos
Recharm will find reusable cuts in your videos, label those videos and give you a well-organized system to choose your clips.
Find shots faster.

Raw videos are cut and organized into various scene types like "hook", "unboxing", "testimonial", "product demo", "call to action", etc. This makes it easy to find the right shots.

Organize footage with labels.

Videos get organized with labels like "actor not speaking". These labels make it easier to find shots where the actor only acts and does not speak.

Get insights into raw footage.

Discover which footage you are missing and make smarter investments.
Upload Raw Videos

Recharm is the home for your raw footage.

Resize into 9:16, 4:5 & 1:1

Each video undergoes resizing, which can be done either by the Recharm team or by you using our tools.

Cut Videos Into Scenes

Each video is spliced into multiple scenes. The Recharm team handles this for white-glove customers.

Label Cuts

Organize your footage to your needs for maximum reuse.

Ready for Remixing

It takes only 2-3 minutes to process every video.
Start Storyboarding
Step 2: Add Scenes from the Library
Select scenes from your video library to begin making creatives in Recharm. Choose engaging hooks, testimonials, or winning full-length ads.
Combine Scenes into a Creative
Step 3: Storyboard Concepts
Apply strategies to extend winning ads, make iterations of existing concepts, or make entirely new concepts. The possibilities are endless.
Extend Winning Ads
Execute simple strategies that leading media buyers use to get more out of winning ads.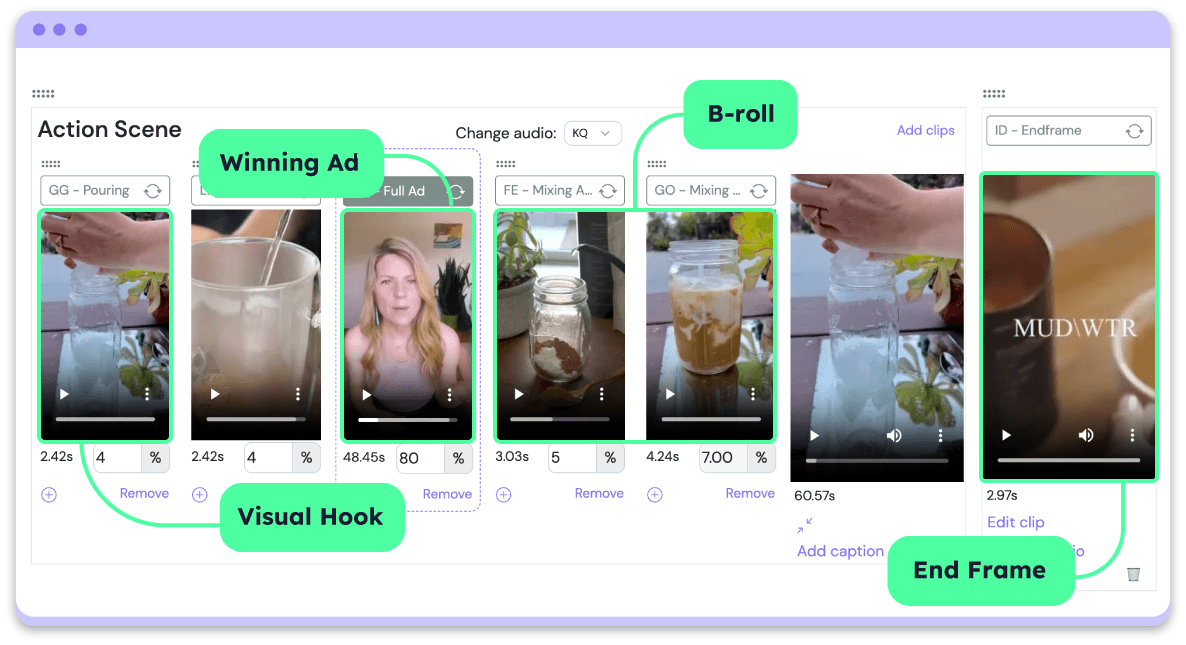 Build Mashups
Piece together testimonials to demonstrate social proof in a few minutes.
Create New Hooks
Repurpose existing visuals with new audio to create new hooks.
Make Videos Ad-Ready
Step 4: Polish
Touch up your videos to make them look snappy, tweak the copy to hone in on the message, or add voiceovers.
Add TikTok-style Text
Adding a TikTok-style text caption is so easy.
Add a Voiceover
Recharm ingests your voiceovers and transcribes them for use via our magic-alignment featgure.
Remove Silence
Auto remove long pauses in your testimonials.
Make Faster Cuts
Lightweight editing to touch up your creatives
Download Finished Creatives
Step 5: Export Multiple Aspect Ratios
Recharm automatically converts all creatives to 9:16, 4:5 and 1:1 aspect ratios. You can also download an Adobe Premiere project for further touch-ups.
Start Making High Performing Videos
If you have a ton of content, and you are looking to make videos quickly, then you are the perfect candidate for early access.
Get Early Access